Sundown Schoolhouse summer 2014:
THE LOS ANGELES SEMINARY FOR EMBODIED AND CIVIC ARTS
---
overview /details / apply / comrades / resources / background
Introducing a radical seminary for communal retreat, embodied arts activity, and project development to inseminate Los Angeles with new forms of civic culture.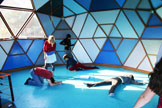 Almost 15 years ago my geodesic dome-topped place in the Glassell Park neighborhood of Los Angeles became the home of Sundown Salon gatherings catalyzing a nascent community of artists on the east side of the city and beyond. In 2006 it transformed into the eclectic programs of Sundown Schoolhouse which eventually left its home to become an itinerant evolving educational environment hosted by museums and art institutions. And now with the initiation of The Los Angeles Seminary for Embodied and Civic Arts, the regular activity and programming returns home to the east side of L.A.
- Fritz Haeg, 2014
---
OVERVIEW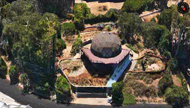 A 'seminary' is a piece of ground where seeds are sown for later transplantation. It is an environment in which something is propagated, from which something originates. The Los Angeles Seminary for Embodied and Civic Arts takes back this secular and potentially radical meaning. We also take back the word 'radical' - going back to the roots. We take back the word 'sensual' - treating all of the senses as sources of pleasure but also intelligence. We take back the word 'embodied' - to give a body to a spirit. We take back the word 'civic' - the activities of people in relation to their local area.
This summer around 10 to 14 of us gather for 12 hours a day, one day a week, for 12 weeks at my home/campus - featuring a resource library, subterranean lounge, workshop garage, wild food gardens, a communal kitchen, picnic tables, lots of little nooks and two geodesic domes - turning inward for an exploration of the embodied arts, turning to each other as a community of fellow artists interested in responding to the world around us, turning outward to pay attention to the city we live in, and ultimately 'inseminating' Los Angeles with our civic arts.
We spend the first few hours of each day in non-verbal moving and stretching; taking turns cooking breakfasts and lunches for each other from the garden and farmer's market; inviting a few luminary experts, artists, and heroes each week to host, feed, and engage over long outdoor lunches of focused dialog (the shared meal, often considered a recreational 'break,' is in fact the focus of our day); followed by leisurely afternoons together and apart; giving the group the time it needs for everything from solitary retreat, reflection, play and work to communal activities, discussions, presentations, and performances. My dream moments would find us spread around the grounds, alone and in small groups, engrossed in our activities, and ringing a bell to come together as needed.
Arguing, baking, bathing, building, canning, carving, cleaning, collecting, composting, constructing, conversing, cooking, crafting, crocheting, cultivating, dancing, debating, digging, discussing, drawing, dyeing, eating, exercising, gardening, harvesting, hiking, installing, knitting, listening, marching, moving, napping, occupying, painting, parading, performing, playing, planning, planting, pontificating, protesting, reading, retreating, running, sculpting, sewing, singing, sitting, sketching, skill-sharing, sowing, speechifying, stretching, sunning, talking, walking, washing, weaving, weeding, whittling, writing...

Perhaps we start the summer - and in turn each day - focused inward, then out to the group, then beyond to the city, and inevitably considering the global implications. Gradually we discover what we want to feel, hear, see, smell, taste, touch, and make. Eventually we develop projects, events, initiatives, installations, performances, propositions, schemes for the city. We take them to the streets, sidewalks, yards, buildings, lots, trees, fields, hills, rivers, shores, skies of L.A.

Special Guests (in chronological order):
Jeanne van Heeswijk, Laurie Peake, Owen Griffiths, Lisa Anne Auerbach, Anne Bray, Mark Allen, A.L. Steiner, Kimberli Meyer, Lauren Mackler, Benjamin Ball, Julia Meltzer, Stuart Comer, David Wilson, Jennifer Allora and Guillermo Calzadilla, Alice Konitz, Irene Tsatsos, Colleen Jaurretche and David Kipen (Libros Schmibros), Emi Fontana, Robby Herbst, John Burtle, Jen Delos Reyes, Zackary Drucker, Rhys Ernst, Bettina Hubby, Rosten Woo, Hedi El Kholti, Alison Hirsch, Maya Gingery, Hans Ulrich Obrist, Alice Waters, Peter Sellars, Christina Kim, Sean Starowitz, Rita Gonzalez, Felicia Filer, Liz Glynn, Luke Fischbeck, Sarah Rara , Matt Merkel Hess, Charles Gaines, Gere Kavanaugh, and Barbara Bestor.
---
DETAILS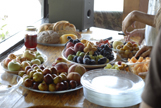 Schedule:
+ The session runs for twelve weeks from June 1 to August 24, 2014.
+ We gather from 7:30am to 7:30pm on a day of the week to be determined by the group.
+ The home/campus is open for free use by the group a second day of the week.
+ Occasional gatherings, book clubs, yoga classes are scheduled for the rest of the week.
Fees:
+ Payment is in time or money, in any combination.
+ Helpful roles include administrator, archivist, book editor, builder, documentarian, gardener...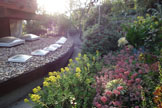 People:
+ The program is organized and administered independently by Fritz Haeg with later help from the group.
+ We have lunch visits by 30 to 40 artists, experts, heroes and local partners, some selected by the group.
---
APPLY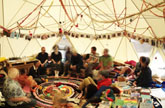 The session is full, no longer accepting applications
Applications for the summer 2014 session should include:
+ complete contact information
+ curriculum vitae
+ links to online work
+ email and phone contacts for a few references
+ brief statement about why you are interested
Approximately 9 to 13 spots will be filled after personal interviews on a rolling basis.

---
COMRADES
Contemporary References & Local Artists
Åbäke, London
Vito Acconci, New York
Mark Allen
Can Altay, Istanbul
Francis Alÿs, Mexico City
Atelier Van Lieshout, Rotterdam
Lisa Anne Auerbach
Julie Ault
Judy Baca
Baltimore Development Cooperative, Baltimore
Bodycartography, Minneapolis
Lauren Bon
Andrea Bowers
Anne Bray
AA Bronson, New York
Tonya Bruguera, New York
Center for Urban Pedagogy, New York
Mel Chin, North Carolina
Celine Condorelli, London
Cesar Cornejo, Puno Museum of Contemporary Art, Puno, Peru
Meg Cranston
Teddy Cruz, San Diego
Mark Dion, New York
Jennifer Doyle
Zackary Drucker
Hedi El Kholti
Elsewhere, Greensboro
EXYZT, Paris
Valie Export, Cologne
Luke Fischbeck
Marc Fischer, Temporary Services, Chicago
Harrell Fletcher, Portland
Amy Franceschini, San Francisco
Andrea Fraser
Futurefarmers, San Francisco
Aaron Gach, Center for Tactical Magic, San Francisco
Malik Gaines
Charles Gaines
Theaster Gates, Dorechester Projects, Chicago
Sam Gould, Minneapolis
Liz Glynn
Katie Grinnan
Group Material
K8 Hardy, New York
Sharon Hayes, New York
Newton and Helen Mayer Harrison, Santa Cruz
Jeanne van Heeswijk, Rotterdam
Robby Herbst
Matt Merkel Hess
Thomas Hirschhorn, Paris
Christine Hill, Berlin
Dougald Hine, Stockholm
Katie Holten, New York
Bettina Hubby
Pierre Huyghe, New York
Andrés Jaque, Madrid/New York
Colter Jacobson, Berkeley
Paul Ramirez Jonas, New York
Journal of Aesthetics and Protest
Stanya Kahn
Dawn Kasper
Alice Konitz
Elke Krasny
Barbara Kruger
Joel Kyack
Suzanne Lacy
Mierle Laderman Ukeles, New York
Libros Schmibros
Daniel Linehan, Brussels
Chip Lord, San Francisco
Rick Lowe, Houston
Juliette Mapp, New York
Mildred's Lane, Beach Lake, Pennsylvania
Jennifer Monson, New York
Lize Mogel, New York
Carlos Motta, New York
My Barbarian
N55, Copenhagen
Nils Norman, London/Copenhagen
Yoshua Okon, Mexico City
Open School East, London
Cathy Opie
Raúl Cárdenas Osuna, Torolab, Tijuana
Taisha Paggett
Michelangelo Pistoletto, Cittadellarte, Biella, Italy
William Pope L., New York
J Morgan Puett, Beach Lake, Pennsylvania
Ted Purves, San Francisco
Michael Rakowitz, Chicago
Red 76, Minneapolis
Sarah Rara
Rebar, San Francisco
Adrián Villar Rojas, Brick Farm, Rosario, Argentina
Jon Rubin, Pittsburgh
The School of Walls and Space, Copenhagen
Alexandro Segade
Anna Sew Hoy
Bonnie Ora Sherk, San Francisco
Kevin Slavin, Brooklyn/Cambridge
Allison Smith, San Francisco
SOMA, Mexico City
Stalker, Rome
Sean Starowitz, Kansas City
A.L. Steiner
Temporary Services, Chicago
Krzysztof Wodiczko, New York
W.A.G.E. (Working Artists and the Greater Economy)
Alice Waters, Edible Schoolyard, Berkeley
Meg Webster, New York
David Wilson, Oakland
Work AC, New York
Rosten Woo
Mario Ybarra Jr.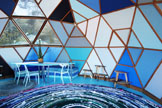 Historical Figures
Ant Farm
Asco
Joseph Beuys
Augusto Boal
James Broughton
John Cage
Edward Carpenter
Agnes Denes
Buckminster Fuller
Anna Halprin & Lawrence Halprin
Jane Jacobs
Allan Kaprow
Sister Corita Kent
Gordon Matta Clark
Hélio Oiticica
Cedric Price
Situationist International

---
RESOURCES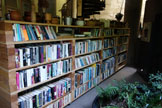 Bibliography (as of 02.25.14)
Primary
Anderson, M. Kat. Tending the Wild: Native American Knowledge and the Management of California's Natural Resources, 2005.
Baruchello, Gianfranco and Henry Martin. Christopher. How to Imagine: A Narrative on Art, Agriculture and Creativity, 1984.
Brand, Stewart, The Whole Earth Catalog, est. 1968.
Freire, Paulo. Pedagogy of the Oppressed, 1970.
Fuller, R. Buckminster. Operating Manual for Spaceship Earth, 1963.
Halprin, Lawrence. The RSVP Cycles: Creative Processes in the Human Environment, 1970.
Jacobs, Jane. The Death and Life of Great American Cities, 1961.
Kent, Corita and Jan Steward. Learning by Heart: Teachings to Free the Creative Spirit, 1992.
Kwon, Miwon. One Place After Another, 2002.
Nearing, Helen and Scott. Living the Good Life, 1954.
General
Alexander, Christopher. A Pattern Language, 1977.
Boal, Augusto. Theater of the Opressed, 1993.
Beuys, Joseph. Joseph Beuys in America: Energy Plan for the Western Man, 1993.
Caro, Robert A. The Power Broker: Robert Moses and the Fall of New York, 1974.
Duberman, Martin. Black Mountain: An Exploration of Community, 1972.
hooks, bell. Teaching Community: A Pedagogy of Hope, 2003.
hooks, bell. Teaching to Transgress: Education As the Practice of Freedom, 1994.
Steel, Carolyn. Hungry City, 2009.
Los Angeles
Hise, Greg. Magnetic Los Angeles, 1997.
Greenstein, Paul, Nigey Lennon and Lionel Rolfe. Bread & Hyacinths: The Rise and Fall of Utopian Los Angeles, 1992.
Gumprecht, Blake. The Los Angeles River: Its Life, Death, and Possible Rebirth, 1999.
Hurewitz, Daniel. Bohemian Los Angeles, 2007.
McPhee, John. Assembling California, 1993.
Ulin, David L., editor. Writing Los Angeles: A Literary Anthology, 2002.
Waldie, D.J. Holy Land: A Suburban Memoir, 1997.
Suggested by the group
Dass, Ram and Paul Gorman. How Can I Help?, 2007
Bishop, Claire. Antagonism and Relational Aesthetics, (essay) 2004
Gadanho, Pedro. Architecture as Performance, 2007
Graeber, David. Fetishism as Social Creativity: Or, Fetishes Are Gods in the Process of Construction, (essay) 2007
Jensen, Tim. On the Emotional Terrain of Neoliberalism, The Journal of Aesthetics and Protest, issue #8, 2011
Lethem, Jonathan. Dissident Gardens, 2013
Halberstam, Jack Judith. The Queer Art of Failure, 2011
Obrist, Hans Ulrich. Do It (A Compendium), 2013
McWilliams, Carey. Southern California: An Island on the Land, 1994
Perec, Georges. Life: A User's Manual, 1978
Weschler, Lawrence. Seeing Is Forgetting the Name of the Thing One Sees, 1982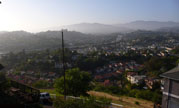 Los Angeles Venues, Projects, Resources:
356 Mission
Artist Curated Projects
Center for the Arts Eagle Rock
Center for Land Use Interpretation
Clockshop
Darin Klein & Friends
East of Borneo
Echo Park Film Center
Elephant
The Eternal Telethon
Foryourart
Freewaves
High Desert Test Sites
Human Resources
The Institute for Figuring
Libros Schmibros
KCHUNG Radio
LA><ART
Llano del Rio Collective
Los Angeles Art Resource
Los Angeles Forum for Architecture and Urban Design
Los Angeles Green Grounds
Los Angeles Indy Media
(LAND) Los Angeles Nomadic Division
Los Angeles Poverty Department (LAPD)
Los Angeles Museum of Art
Los Angeles Urban Rangers
Machine Project
MAK Center
Materials and Applications
Metabolic Studio
The Mountain School of Arts
Museum of Jurassic Technology
ONE National Gay & Lesbian Archives
Pieter
Public Fiction
Self Help Graphics and Art
Slanguage
Thank You For Coming
Watts House Project
West of Rome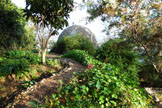 Related Projects by Fritz Haeg:
Sundown Schoolhouse, 2006-present
Wildflowering L.A., 20013-14
Domestic Integrities, various cities, 2012-14
Princeton Student Settlement, Princeton University, 2012
Detroit Methods, Wayne State University, 2012
Everton Foraging Spiral and Basecamp, Liverpool Biennial, 2012
Sundown Schoolhouse of Queer Home Economics, Hayward gallery, London, 2012
Dome Colony X in the San Gabriels, X Initiative, New York, 2009
East Meets West Interchange Overpass Parade, Indianapolis Museum of Art, Indianapolis, 2008
Plan B, MASS MoCA, 2007
This River is Our Parade, CalArts, Valencia, California, 2006
Sundown Schoolhouse Fall Session, 2006
The Gardenlab Experiment, Art Center College of Design, Pasadena, 2004
Sundown Salon, Los Angeles, 2000-2006
Edible Estates, vanrious cities, 2005-2013
---
BACKGROUND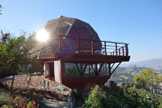 Sundown Schoolhouse* is an evolving educational environment founded in 2006 by artist Fritz Haeg as the series of Sundown Salon gatherings (est. 2000) concluded at his Los Angeles geodesic home. Early Schoolhouse programs in the dome included book clubs, yoga classes, and the inaugural 12-week fall 2006 session. The Schoolhouse was itinerant from 2007 to 2012, functioning at times as the personal school of chief student Fritz Haeg. Programming guided by his evolving curiosities was housed in a series of dome tent environments where local artists and experts lead workshops, classes and seminars around particular themes and topics. Programs in the first year ranged from an entire season of The Philadelphia Training Camp for Expression Skills at the Institute of Contemporary Art in Philadelphia, to the one-day Dancing 9 to 5 workshops at the Whitney Museum in New York. In 2008 the programs focused on edible gardening and urban wildlife with San Francisco Animal Lessons at SFMoMA, Utrecht Animal Lessons at Casco Office of Art, Design and Theory in Utrecht, How To Eat Austin at Arthouse in Austin, and Guided Estate Tours and Animal Drills at the 2008 Whitney Biennial. In 2009 A Library for the Future was initiated online and Practicing Moving transformed the Center for the Arts Eagle Rock in Los Angeles into an open practice hall for movement, followed by The Aldrich Workshops, part of the exhibition Fritz Haeg: Something For Everyone at the Aldrich Contemporary Art Museum in 2010. The Schoolhouse pitched it's dome on the roof of London's Hayward Gallery for a month in 2012 for Sundown Schoolhouse of Queer Home Economics welcoming the local LGBT community for an intense series of daily programs focused on queer domestication as a part of Wide Open School. And in 2013 Sundown Schoolhouse returned home to Los Angeles with installations at the LA Art Book Fair and Human Resources (At Home in L.A.) leading up to the re-launch of regular seasonal enrollment programming at it's home base in Summer 2014 with Los Angeles Seminary for Embodied and Civic Arts.
Fritz Haeg's work has included animal architecture, crocheted rugs, domestic gatherings, edible gardens, educational environments, preserved foods, public dances, sculptural knitwear, temporary encampments, urban parades, wild landscapes, and occasionally buildings for people. Recent projects include Edible Estates - an international series of domestic edible landscapes; Animal Estates - a housing initiative for native wildlife in cities around the world which debuted at the 2008 Whitney Biennial; Domestic Integrities - installations and gatherings staged on massive crocheted rugs of discarded clothing and textiles that expand as they travel; Sundown Schoolhouse - an evolving series of educational environments and initiatives; and various projects of colonizing, parading, wearing & wilding including the current project Wildflowering LA. Haeg studied architecture in Italy at the Istituto Universitario di Architettura di Venezia and Carnegie Mellon University, where he received his B. Arch. He is a 2010-11 Rome Prize fellow, a MacDowell Colony Fellow (2007, 2009, 2010), Montalvo Arts Center fellow (2012), and a 2009 and 2010 National Design Award nominee. He has variously taught in architecture, design, and fine art programs at California Institute of the Arts, Art Center College of Design, Parsons School of Design, the University of Southern California, Wayne State University in Detroit as the Elaine L. Jacob Chair in Visual Art visiting professor, and Princeton University.
---
SPECIAL LABOR DAY WEEKEND EVENT: SUNDOWN STOCK & EXCHANGE
Sundown Stock & Exchange 
at ForYourArt
6020 Wilshire Blvd, Los Angeles
Labor Day weekend, 2014
Friday August 29th: 7pm - 9pm
Saturday August 30th - Monday September 1st: noon - 5pm
The Los Angeles Seminary for Embodied and Civic Arts and its extended community present Sundown Stock & Exchange. This Labor Day weekend marketplace explores the social, economic, creative, and communal nature of work. Participants and visitors pause, perform, and posture actions that reveal embodied relations to labor and production. Work is offered for barter, exchange, negotiation and sale. Visitors are also encouraged to bring personal belongings and valuables to exchange. Programming includes street sales, artist advisory services, in-house production, screenings and more. 
Curated and organized by Reid Ulrich. Contributors & Participants: Amanny Ahmad, Lisa Anne Auerbach, Mark Allen, Maura Brewer, Danielle Bustillo, Joey Cannizzaro, Carey Chiaia, Alexis Disselkoen, Zackary Drucker, Lauren Elder, EARL GRAVY, Maya Gingery, Paige Gratland, Fritz Haeg, Matt Merkel Hess, Hesse Press, Bettina Hubby, Iko Iko, Helena Keeffe, Los Angeles Museum of Art, Emily Marchand, Ian Markell, Metonym, Public Fiction, Anna Ruetinger, Justin Stadel, Thank You For Coming, Reid Ulrich, Rosten Woo, Lucas Wrench and Mimi Zeiger.
Special events and activities:
All Weekend
EARL GRAVY's artist recruitment service, #SOLOshow@, will work with interested parties to develop virtual solo exhibits in some of America's most revered art institutions.
Friday
7pm - 9pm, Service, "Supply + Demand" by Emily Marchand and Carey Chiaia exhibits in some of America's most revered art institutions
7pm - 9pm, Activity, "Gifts of Return" by Alexis Disselkoen.

Saturday
noon - 5pm, Street Sale, "Honest Abe and the Working Class One"
2:30pm - 4pm, Screening, "Women On The Land: Creating Conscious Community," Carmen Goodyear & Laurie York, 57 min.

Sunday
noon - 5pm, Street Sale, "Honest Abe and the Working Class One"
1pm - 2pm, Movement Exercise, "The Body as Presence. Dance is Labor." by Maya Gingery
2pm - 5pm, Service, Fritz Haeg will be accepting donations of fiber to knit into personalized triangular kerchiefs in exchange for something of equal value.
Monday
1pm - 3pm, Advisory, Mark Allen of Machine Project conducts free 15 minute advisories on curatorial strategies, emailing, tailoring, and starting your own art space.
More details:
All Weekend
#SOLOshow@. EARL GRAVY will be accepting submissions from artists to participate in curated solo shows at Guggenheim*, Whitney*, Moca* and Lacma**. EARL GRAVY will work closely with selected applicants to develop individual works for the show and will be responsible for marketing and publicity and other curatorial aspects. Email earlgravyart@gmail.com for info and application packet. Deadline: Sep 20th.
*All galleries will exist in the virtual realm, being 3D rendered replicas of these revered architectural spaces. 
**Aforementioned institutions IRL are not in anyway affiliated nor do they endorse their 3D replicas or the content displayed therein. 
Friday, August 29th
7pm – 9pm - Supply + Demand by Emily Marchand and Carey Chiaia. Following the economic model of supply and demand, Emily Marchand and Carey Chiaia will serve cocktails and bites until shortages occur and supplies run out.
7pm – 9pm - Gifts of Return by Alexis Disselkoen. In the spirit of summer camp activities and social reciprocations Disselkoen's Gifts of Return will explore the impulses of offering and withholding. Come and receive a hand made gift of affection from the artist as she considers the social dealings of giving and taking. 

Saturday, August 30th
2:30pm – 4pm - "Women On The Land: Creating Conscious Community" USA / Carmen Goodyear, Laurie York / 57 min / Women On The Land: Creating Conscious Community highlights the work of women in the Northern California coastal community of Mendocino County over the past 40 years.  It includes archival footage of those who founded "Country Women," the extremely successful feminist publication and how-to magazine for women's self-sufficiency.  Featuring the work women in this community have done to care for the environment of our coastal land and sea over the years, the film follows the lives of women farming now, and explains why the sustainable, organic, local food movement is essential in our current world of dwindling natural resources and economic decline. 
Sunday, August 31st
noon – 2pm - "The Body as Presence. Dance is Labor." by Maya Gingery. A participatory movement exercise, an exchange of energies.
2pm – 5pm - Service Exchange: Fritz Haeg will be accepting donations of fibers to knit into personalized triangular kerchiefs, in exchange for something of equal value.
Monday, September 1st
1pm – 3pm - Mark Allen, Founder and Director of Machine Project, will conduct 15
minute advisory meetings free of charge on the topics of...
1) Starting your own grassroots art space.
2) How to write and respond to email effectively.
3) Best practices in tailoring for middle-aged men.
One topic per participant. Drop-ins welcome.
---
Sundown Schoolhouse, Los Angeles
web: sundownschoolhouse.org
* Sundown Schoolhouse is really a house and does not have regular public hours or a published address.
Join the email list to receive announcements about occasional public events.