Delivered at the Serpentine Gallery in Kennsington Gardens, London on October 15th, 2011 for Garden Marathon curated by Hans Ulrich Obrist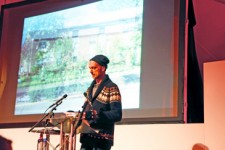 My gardening obsession came over me like a fever in 1999. I had moved from New York to Los Angeles looking for some adventure, a fresh start, a bit of freedom, something wild, and a deeper connection to the outdoors. I arrived to town where I had just three friends, no job, no prospects and $10,000 dollars of debt. But out my door was a big enclosed patch of unkempt weedy soil where I soon began to spend all of my time establishing my first garden. I went deeper into debt each day buying seeds, plants, soil, compost, pots, and gardening books that eventually surrounded my bed as I would drift asleep each night dreaming of possibilities for that dirt out my door. The pragmatist in me argued that it was madness, a waste my time. But I surrendered to it completely, feeling a sense of urgency, that somehow it was the only thing that really mattered, that it was what I had come here for. It was the only time I felt like I was exactly where I was supposed to be. Outside with my hands in the dirt time fell away. And indeed much of my future work would grow out of those first few months of gardening mania.
The following year I bought a hilly piece of wild land with a geodesic dome in the hills nearby, where I gradually created a more ambitious garden that became a laboratory for my work, and site for gatherings, events and performances. As I began to teach in local art colleges I would develop my classes around principles of gardening. Schools had 'computer labs,' so I created 'garden labs' in response, establishing scrappy community gardens with my students on the campus lawns of Art Center in Pasadena and Cal Arts in Valencia.
In 2004 George W Bush was reelected (yes, this is part of the story). The United States became blue states vs. red states. Having always lived in the blue and feeling a growing disillusionment with the insular dialog within the contemporary art and design communities, I responded with a plan to take my work to the middle, to the red. The first Edible Estate garden was established in Salina Kansas, the geographic center of the United States, on Independence Day, July 4th, 2005 and commissioned by the Salina Art Center. I found a local family of eager gardeners willing to surrender their front lawn. I developed a design and over a long weekend we ripped up the lawn and planted everything we could find that would produce food in that growing zone. I left town and the garden was theirs to continue on their own terms.
The series of regional prototype gardens has continued since, planting one or two gardens a year, each in a different city and climate, for a different family and neighborhood, demonstrating the possibility for publicly growing food in the cities where we live. They are cheap and simple, with no expensive materials or fussy designs. Anyone could walk by and imagine doing it themselves too. Each is planted between the front door of a typical residence and the street. The most critical decisions are where it is and who it is for. Unlikely locations are selected, where a garden producing food might be surprising, shocking, unwelcome, or even threatening. Even if nobody else in the neighborhood follows suit, everyone is a witness to the garden, and what food looks like when it is growing on plants that come out of the dirt – a true novelty in most of our cities today.
Later editions have been planted on a front lawn in suburban Lakewood, California, around an apartment complex in Austin, Texas, in front of public housing in Manhattan, on my rooftop terrace in Rome (later donated to a local community center), in Istanbul in the form of a public gardening headquarters in a hothouse on top of the new art institution SALT Beyoglu, and in spring 2012 Edible Estates #12 will be established in Budapest.
My professional and academic background is in architecture, my early passion. But buildings are boring to me now. It is only the people with money who decide what our buildings do and how they look, but anyone can go outside tomorrow, put a plant in the ground and begin to affect the future of their city. Gardens are the easiest first wedge for any urban resident to engage. Gardening as a political act. Gardening as a form of resistance. Gardens go viral. Gardens are people. Watching a garden is witnessing live human intention. When the gardener goes, so does the garden.
I am not interested in invisibly manicured precious landscapes that we are meant to passively watch like TV. I want urban landscapes that are gardens, that show daily evidence of individual human desire and ideas. Everything we need to know about how to live on the planet we can learn from a gardener growing food. They are intimately aware of the story of where our sustenance comes from and where the shit goes. I am interested in gardening as a form of communication between one person and the dirt under their feet….gardening as the ultimate metaphor for a thoughtful human conversation with the world around us.
In 2007 Tate Modern commissioned the fourth Edible Estate garden. We found a site in Southwark at the corner of Lancaster and Weber surrounded by council housing estates with the help of Bankside Open Spaces Trust, who would go on to help produce the project, and oversee it's future life. The elaborately curvy design was meant to echo the royal palace gardens like those you will find around us here today. It is designed as a pleasure garden that also happens to be productive.
Carol Wright from BOST, Kathy Noble from Tate, and I went door to door to each flat in the Brookwood housing estate overlooking the selected green triangle to tell the residents of the plan, gauge their interest, invite them to participate, and hopefully get their approval. Each resident agreed to the plan with varying levels of disinterest, (though one resident was pushing for a car park instead) except when we came to flat #7. Upon knocking, the door opened so fast, and the response to the garden was so enthusiastic, that it seemed the resident, Denise Withers, had been waiting for us.
She was one of the only estate residents who joined the local crew of volunteers to plant the garden, and she has been the force behind it ever since. She patrols from her third floor balcony, making sure no one messes with it. She has publicly nurtured it for 4 and a half years. Every time I am in town I stop by to see how it is doing, and sometimes we have a brief chat, but I have never had the chance to formally sit down with her to find out about her experiences – so I would like to do that today…
(an interview with Brookwood Council Housing Estate resident, Denise Withers followed)