for Rumor: Princeton School of Architecture / A Conversation with Joe Scanlan, Fritz Haeg, and Dan Wood / Winter 2012, #03.02 / Mach 5, 2012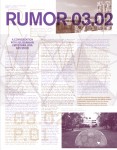 JOE SCANLAN: I just saw a picture of the proposed classroom for your Atelier course, a big, orange expedition tent placed smack in the middle of the New South lawn. It's very compelling! It  feels like a spaceship has landed, or explorers have arrived to begin extended research into this strange culture known as a university campus. Is that how it feels to you, preparing for this course. Are you embarking on an expedition?
FRITZ HAEG: Yes, I really like that analogy to an expedition. An initial motivation for this project was to depart from the confines of conventional academic architecture. The privileged space of the academic environment is always interior: classrooms, libraries, studios, offices, dining halls, dormitories, etc. The non-interior spaces are typically residual left-over in-between spaces that are, at best, just meant to be pretty, ornamental, or recreational. So, yes, this project is like embarking on an expedition in a location that is both very familiar and unknown, very visible, but unseen. Did you ever pitch a tent in your backyard when you were a kid? Maybe it's a bit like that….similar motivations to explore, find your own space, and to temporarily escape the institutional structures.
JS: It sounds like you want to harness this space-put it under glass, so to speak-and see what it might reveal. We often talk about how college students learn as much through informal socializing  as they do in formal classroom settinngs. The conversations that follow a seminar down the hall and out of the building might be more illuminating than the seminar itself. That has certainly been my experience, especially in my studio seminars, where confused and halting class discussions sometimes produce a flurry of studio activity. It is as if the information needs a different, less structured outlet in order to be manifested. Has that been your experiences?
DAN WOOD: I am not sure that a focus on the "informal" doesn't in a way trivialize the experiences and interactions that we hope to foster. In fact, some of the events, installations, and discussions that come out of this informal setting and arrange may, in fact, be quite organized, strident and "formal" – just self-generated and perhaps outside of the mainstream of the educational experience. For me, it is more a question of the "peripheral" that you are really describing, which is really at the heart of any creative venture. As we all know, the best ideas often come to us at the very moment we are thinking or doing something else. I think the kind of enforced peripherality that we are encouraging may indeed be a real source of inspiration and creativity.
FH: Yes, certainly, and that was in fact one of the fundamental aspects of the first season of the Sundown Schoolhouse, which I initiated at my home in Los Angeles in 2006. Through the 12 week term, nine students visited for one entire day a week from 8am until 8pm. In addition to our time spent with a wide range of visiting teachers, we shared morning movement and yoga, prepared and ate all of our meals together, washed the dishes, cleaned up, and ended the day with a social hour when friends were welcome to stop by and hang out. Of course it was those moments between the supposedly privileged formal school-time of focused discussion, when things settled – relaxing a bit, re-entering the quotidian, making connections – and some really essential dialogue emerged.
JS: I don't normally have extended experiences like that with my students, unless we are on a field trip. One of the best class discussions we ever had took place in a rented Buick LeSabre on our way back from a visit to Dia: Beacon. (And yes, you can fit an entire advanced sculpture class in a Buick LeSabre.) Still, twelve hours sounds like either a lot of yoga, a lot of cooking and eating, or a lot of cleaning up. What other kinds of topics would bubble up for discussion in between these described events?
FH: Most of the apparent focus of the Schoolhouse days was on the regular series of visiting teachers we had coming through – over 24 of them from a variety of disciplines, over the course of the 12 weeks. So we still did have that concentrated time with a teacher – but my hope was to create an environment where the students were in charge and at home, and it was the teachers who were visiting them on their own turf. And because each visitor spent relatively little time with us, the core relationships were student to student, not student to teacher. In that way the dialog that emerged between the students could continue through the rest of our activities in a continual flow from breakfast in the morning to happy hour at the end of the day, with the visitor there to continually redirect things.
JS: Dan, your characterization of the peripheral reminds me of something the artist David Hammons once said, about how he feels his best work happens on the way to the studio rather than in the studio. And even once he's there, the "big" piece he's working on is getting all overworked and uptight, while some little thing he might do while talking on the phone or making tea would be freer, and so much better. I'm sure that's happened to each of us, no? But it begs the question: How do you set up and sustain a peripheral zone of creativity without it becoming the center? How do you imagine the class maintaining that spirit of being on the edge, so to speak?
DW: I was thinking more that the class is to set to be – in every possible way – peripheral to the larger institution. We will be outside, first of all, all the time, in direct contrast with any typical class. (In February, this sense of being "outside" of the typical learning environment will be very noticeable I think!) Second, the class will be working directly with existing student-run groups on campus, who already operate outside of the proscribed activities and endeavors of the University. Lastly, Fritz and I are working to bring a number of speakers from outside of Princeton to engage the class in a series of discussions about self-organization, activism, creativity etc. Fritz himself, of course, is not a member of our school and I think the very presence of all of the people working in wildly different contexts will inevitably lead to a lot of discussion and thinking outside of the traditional Princeton box…
FH: Yes – and perhaps the most fertile by-product of positioning ourselves outside of the confines of the established infrastructure – is that we will also become extremely visible, inserting ourselves into the public realm of the University and student life. So much of what happens in the classrooms and studios remains hidden and invisible – this will be quite the opposite.